Pictures
The Rover Club successfully staged the biggest gathering of Range Rovers, Discoverys, Defenders
and Series vehicles in the Philippines last Saturday 11 March 2000 at Fat Willy's, The Fort.
(sorry, but there were too many Rovers to fit in one photo)


Daraitan River crossing during the Intermediate 4x4 Off-Road Driving Course
on 27 August 2000 in Tanay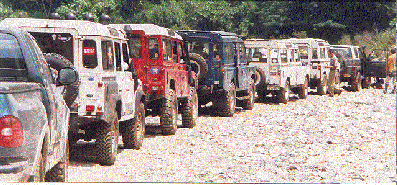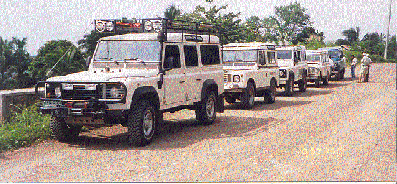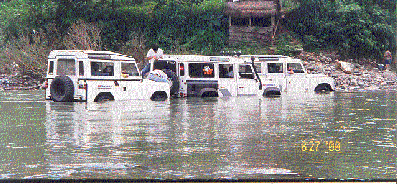 Friday, 14 to 15 Oct 2000, Lake Caliraya, LRC Organizational Meeting of Members
to elect the Board of Trustees and to ratify the articles of association.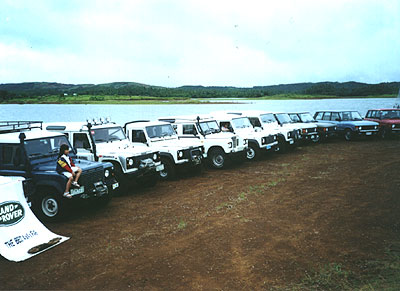 The Land Rover Club and Sports Unlimited went to Hi-Peak, Zambales last Thursday, May 17, 2001
Hi-Peak is the second highest mountain of Luzon with an elevation of approximately 6,000 feet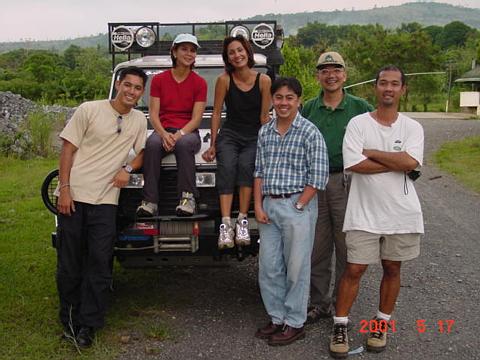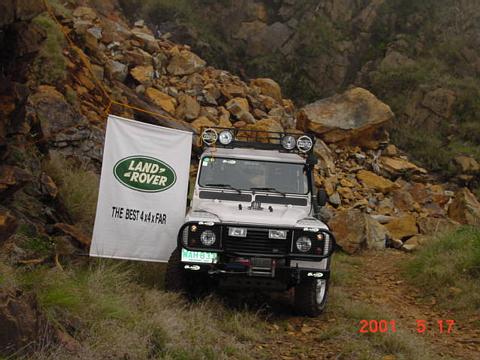 Land Rover Club promotes Tomb Raider movie on June 15, 2001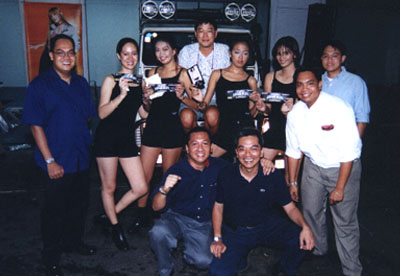 Photos taken at the 3rd leg of the Philippine Elimination Series for the Rainforest Challenge ("RFC") of
Malaysia held on Saturday and Sunday, 28 and 29 July, at The Fort (near S&R), Taguig.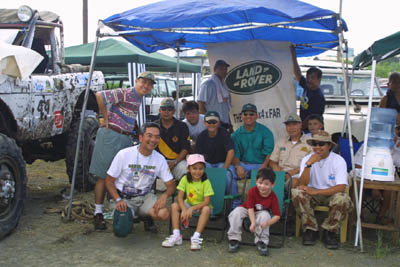 Dale Abenojar racing in his notorious deRanged Reover; a Range Rover classic, known specs for Dale's Reover: -- wheelbase reduced from 100" to 88" by shortening the chassis; rear overhang reduced by 12"; V8 3.5 liter engine stock; 4 speed manual trans and transfer case stock; Reo 2.5ton military truck axles front and rear with mechanical axle lockers; customized air brakes and power steering box / rods; prop shafts customized; original coil springs sitting on customized spring bases; long travel shocks; 20" military truck rims; 40" tall tires, around 14x20 in size; many others.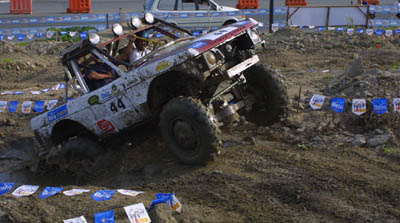 Land Rover Club joins Angeles City 4x4 Club on their yearly Department of Tourism
trip to Mt. Pinatubo. This link is an Mpeg video of a Defender 90 being driven by
Sherwin Lim pulling a Defender 110 stucked in wet lahar. Video was taken on Nov. 30, 2001.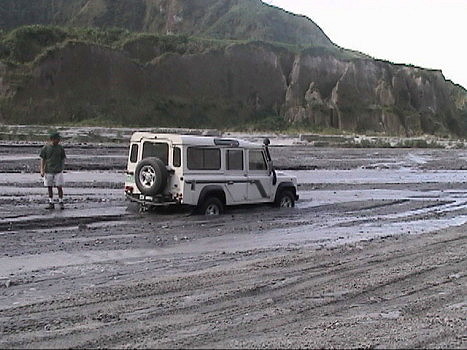 Bucao Riverbed: This was in Botolan, Zambales. The lahar riverbed leads to the coast.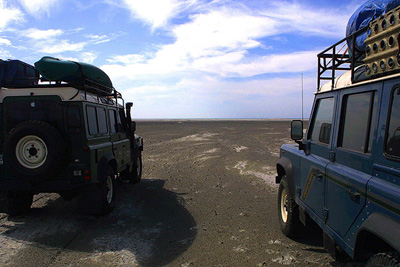 Agno Crossing: This was in Agno, Pangasinan, where we went through the old
coastal trail to Bolinao. The bridge was out so we went down to the beach and
crossed the river from it's shallowest point beside the beach.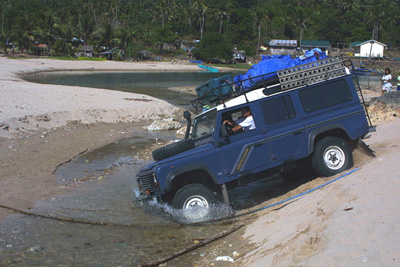 Boliano Campsite: This was in Bgy. Patar, which also owns or takes care of this public beach.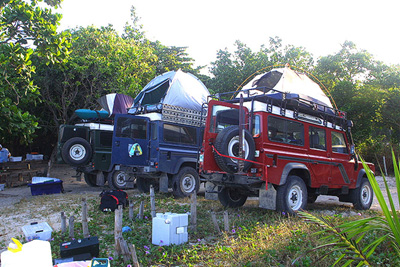 [ Home | Officers | Membership | Contact Us | Mailing List | Suppliers/Services | Links | Pictures & Videos | GPS Information ]
Copyright © 2001 Land Rover Club of the Philippines